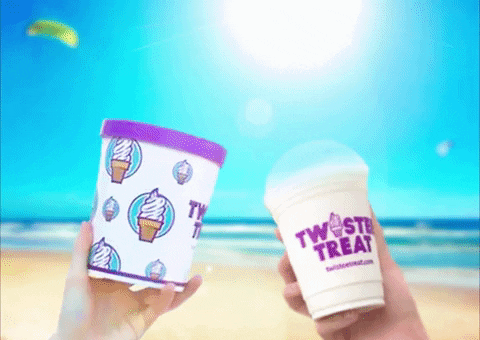 Whether you live in Florida or you're deciding to visit, you simply can't miss out on our beaches! Twistee Treat originated right here in the southwest coast of Florida. As a Florida veteran since 1983, let us dive in and help you plan your beach trip!
Packing Essentials:
~Sunscreen
~Water
~Cooler for our quarts-DUH!
~Ice
~Twistee Treat gift card from Grandma
Optional Stuff:
~Sunglasses
~Bucket/shovel-for sand
~Beach ball
~Umbrella-for shade
Twistee Treat USA has two locations super close to the beach. Our New Smyrna Beach location and our Cape Canaveral store are less than a 5 minute drive to the beach. From Downtown Orlando, both beaches will only set you back about an hour, so it's an easy day trip. Once you arrive you can conveniently pick something up in our drive thru and take it with you or stop by after you're done at the beach. Relax and enjoy some ice cream on our patio after your day! Check out the maps below to see an up close view of where we are in comparison to the beach.
Twistee Treat New Smyrna Beach Map
0.2 miles from the beach – 3 min drive – 5 min walk

Click HERE for directions
Twistee Treat Cape Canaveral/Cocoa Beach Map
0.7 miles from the beach – 4 min drive – 15 min walk

Click HERE for directions
As we mentioned before, that cooler will be perfect for bringing our quarts with you to the beach and great for parties that you'll need something to share with friends. It's 32 oz of ice cream that you can get with any of our toppings and premium flavors mixed in. This is sort of a secret menu item and it's not listed on our current menu, so be sure to ask about them when you order!
Shameless plugs aside, you can't go wrong with a beach day. Enjoy life, enjoy the ocean. There's plenty to do out at both beaches including surfing Ponce Inlet in New Smyrna Beach or Satellite Beach right down from Cocoa Beach. You can also enjoy paddle boarding, fishing and of course swimming! Did you know New Smyrna Beach has a pet friendly beach? Take a sunset stroll along historic Flagler Avenue in NSB or walk the historic pier in Cocoa Beach while you're still around. Your day is sure to be filled with lots of fun, just make sure to include us to really make it worth the trip! So grab your flip flops and we'll see you soon!